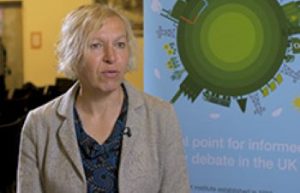 How does the UK's floating wind industry appear from Europe? New Power editor Janet Wood explored the view in this article first published in October
Time to take the plunge?
The UK's success in fixed offshore wind farms has left it with tough decisions on the nascent floating wind option. Should it try to take a lead?
The UK remains a leader in offshore wind and this year's planned allocation round is expected to see prices fall again. But does its success in bringing forward wind farms with turbines fixed to the seabed, in relatively shallow waters, give it a unique problem? Can its industry-building also encompass a part of the offshore wind industry that is attracting growing interest – floating wind turbines that can be deployed in deeper waters?
The UK government does not underestimate the potential importance of the new floating wind sector – the 56MW Kincardine wind farm is now under construction. In its consultation on the upcoming allocation round for renewable energy Contracts for Difference (CfDs), the Department for Business, Energy and Industrial Strategy (BEIS) said, "Floating offshore wind has the potential for deployment in deeper water sites, where fixed bottom offshore wind is either not technically feasible or uneconomic, and where wind speed can be higher. In the UK, this could open areas of Scotland, Wales and southwest England for deployment." It added that the technology could also help address those periods of calm when existing wind farms do not generate, saying, "This also potentially creates additional diversity benefits as generation will increasingly be moved beyond the east coast of England where different weather systems will operate."
But at the Floating Offshore Wind Technology (FOWT2020) conference, held in Marseille in September, it seemed that the UK is off the pace in the developing  floating wind industry. It is natural for countries hosting an international conference to hear compliments from the speakers. But nevertheless it was a jolt to hear Giles Dickson, chief executive of WindEnergy Europe, giving credit where it is due: he stressed the industry's gratitude for "The outstanding leadership France is showing in the development and deployment of floating offshore wind".
Although the Hywind floating wind turbine was installed in UK waters over a decade ago, and had proven to the market that floating offshore wind was viable, according to Equinor's Sebastian Bringsvaerd, for FOWT2020 delegates "the first Hywind project is history".
What is France doing right? For a near-commercial scale project (250MW) planned offshore of  Brittany, connections will be provided by the transmission system operator, while the plant itself has capital support of €300 million from ADEME and a €1.5 billion allocation for the feed-in tariff. In addition, the preliminary environmental permitting was carried out by the state. The timetable is firmly fixed, with suppliers and investors preparing for a tender in 2021 – potentially at the same time as the UK's own allocation round.
What is more, additional political and financial support has been provided by France's powerful local politicians. Presidents of the Sud and Occitane regions (two of France's 13 mainland administrative regions), who see the need for floating turbines off the Mediterranean coast, have each provided funding of the order of €130 million to build local alliances of business, academics and investors, while other coastal regions (led by Brittany, which will host the FOWT 2021 conference) have supported development of port infrastructure, factories for turbine blades and nacelles, associated knowledge and IT industries and logistics capacity.
Presidents of  all the administrative regions – who will be expected to help deliver a Covid-19 recovery – met President Macron in September, where the conference heard they would "work hand in hand" to tap into €40 billion in additional Green Deal funding from the EU to support offshore wind initiatives.
The Sud region has also recently signed an agreement on sharing expertise on floating wind development directly with Japan.
The UK had far fewer specifics. Yuenfan Cheung, from the UK's Department of Business, Energy and Industrial Strategy, told the FOWT2020 delegates that offshore wind had met 10% of the UK's electricity demand in 2019 and that level was expected to reach 30% by 2030, adding that "Offshore wind is the most scaleable of the renewable technologies". That, it was clear, was mostly fixed-bottom projects in the shallow seas off the UK's east coast.
"There is an increasing role for floating wind in the 2030s and 2040s", he suggested. That is well behind the schedule in France and other markets. Giles Dickson said that by 2030, floating projects in Europe would include 3GW in Norway and 2.3GW in France (where 250MW of pre-commercial projects, including that in Brittany, come with a 500MW extension assumed), along with 300MW in Portugal and a potential further 3GW off of Spain's Canary islands.
by 2030, floating projects in Europe would include 3GW in Norway and 2.3GW in France
As for the UK's planned allocation round in 2021, Cheung was unable to give details on how floating turbines would be included. BEIS has proposed that floating wind be able to access  a dedicated subsidy 'pot', rather than competing with fixed-bottom wind or even earlier-stage technologies like wave and tidal. A consultation on the proposal closed recently, but the timing meant Cheung could not confirm the terms of the allocation, how much capacity might be supported or the potential level of 'administrative strike price' that might be available. That would have to wait for the much-delayed Energy White Paper, he said.
In the meantime, he pointed to a further call for evidence published by BEIS on 28 August which sought information on options for project funding, cost reduction, and managing environmental impacts. That too would be fed into the White Paper, he said. That could leave little for the industry to go at in next year's allocation round.
That is not to say the UK's floating wind option remained unmentioned. But in a sector where projects take a decade and a €30-40 million investment to reach development maturity, the most frequent UK namecheck at FOWT 2020 was the Scotwind leasing round. If the Scotwind tenders opens in 2025, bidders would be making decisions on turbines in 2023 – so the turbine options were already becoming clear, they said.
Will prices fall?
With regard to fixed-bottom offshore wind, it is now at  the point where it is "Not a subsidised technology any more," as John Hill, project director at Scottish & Southern Energy,said in a round table organised by cable supplier Nexans. Instead it requires price certainty. Hill added that fixed offshore wind, "Has been proven over the last 10 years or so, [but it] is still in the middle of its evolution" and its costs would fall further.
What is the difference in price between the two technology variants? An initial French floating demonstration project, which should see three 9MW turbines installed 32km off the coast of Brittany in 2023, will have a feed-in tariff of €240/MWh. Fixed offshore wind has already seen prices below a fifth of that level. The target price for the first commercial scale follow-up floating project in France, the 250MW plant also offshore of Brittany (above), is planned to cut the feed in tariff dramatically to €140/MWh. By 2030 deployment,  the floating wind industry is targeting a levelised cost of energy (LCOE) of €40-60/MWh.
By 2030 deployment,  the floating wind industry is targeting a levelised cost of energy (LCOE) of €40-60/MWh.
Is that attainable? Ulrik Stridbæk, VP Group Regulatory Affairs at Orsted,told the Nexans round table that "Catchup and technical development is needed. It will require special schemes for some time at least" and "Everything else being equal, floating will continue to be more expensive than bottom-fixed."
John Hill said that floating is "a future technology. It opens up new areas of seabed but cost competitiveness is critical. It needs another five or ten years to make it cost-competitive with other technologies [ie fixed offshore wind]." Ragnhild Katteland, executive vice president, Subsea & Land Systems Business Group at Nexans, said,  "as regards cabling it uses the same technology – and that is also why ex oil companies are jumping in, because it uses similar technology."
Companies in the sector are very positive, suggesting that the cost target could be reached more quickly than had been required for fixed-bottom offshore wind, because the turbine technology is already well known.
Some potential cost reduction routes were already being pursued, such as a move from steel to concrete floating platforms and from chain to polymer anchors. But the industry now needs to cut down the variants in technologies being tested – Japan, for one, has five different options in the water – build up operating experience and, crucially, step up deployment and move to fast series build. "Costs do not fall with time, they fall with GW deployed," said Dickson.
What do we want?
If the UK has to make some decisions on floating offshore wind, just what is it deciding? Is it important as an option to allow the UK to tap more of its seabed to generate energy, or is it as a major export opportunity?
It was clear from discussions at FOWT that there is more than one industrial opportunity. For example, the turbines and their floating foundations represent two major supply chains that have sparked interest equally from turbine suppliers and from oil and gas companies experienced in building and deploying these structures. For another, marrying the two components, and managing the array at sea, requires complex control technologies. All three sectors might play to UK industrial strengths.
marrying the  components, and managing the array at sea, requires complex control technologies.
There is a global market to be tapped. WindEnergy Europe's Dickson said that of 450GW of offshore wind that will be required by 2050 to meet net zero targets, under current projections, "100-150GW should be floating" and he highlighted the Meditteranean and southern Atlantic areas as target areas.
Stridbæk said it is "mainly relevant to countries with deep waters and no shallow coastal waters" and those who have some capacity for bottom-fixed wind "but need to move to floating if they are to scale up substantially." But that applies to some major economies, with California, Japan, China, Korea, Vietnam and Taiwan all mentioned at the FOWT conference.
The Norwegian attitude is instructive. Bjorn Haugstad of the Norwegian Ministry of Energy and Petroleum pointed out that for Norway, offshore wind was "not needed for domestic purposes, as because of our hydro power we have a surfeit of electricity." Nevertheless, this year Norway produced plans for floating offshore wind, because the wind "blows stronger and is more consistent" in its deep water areas.
Floating turbines could add to its power export options, arbitraging with hydro, or be used  to power offshore oil and gas infrastructure. Equinor's Sebastian Bringsvaerd agreed, saying that floating wind has a key role going forward "for obvious reasons of space and water depth". Haugstad added that, "Participation in the EU community is vital," because the EU was expected to provide €30 million to install and test a 10MW floating turbine in Norway, in a joint programme also involving Spain, France and Denmark.
Atsuke Ito, head of oil and gas and renewables at Japan's Ministry of Land, Infrastructure, Transport and Tourism, said offshore wind was "indispensable" in Japan and plans are currently under discussion, with the aim of bringing more private investment into the industry.  Current targets for 10GW of wind (onshore and offshore) by 2030 were likely to be increased, and "Deepwater areas are five times larger than shallow waters," he said.
Japan's wind potential within 30km of land was put at 213GW in waters up to 50m deep and 988GW in depths up to 200m. The frequent typhoons off Japan's west coast also favoured floating wind, which was robust against such high winds, Ito said.
Japan's wind potential within 30km of land was put at 213GW in waters up to 50m deep and 988GW in depths up to 200m
In California, "policymakers are up for offshore wind, but it gets deep very quickly so it has to be floating. It is high on the list of priorities for meeting 2045 targets," Stridbaek said. Pressure was placed on the US federal government when Castle Wind forced consideration of offshore wind by submitting an unsolicited request for a development lease to the new Bureau of Ocean Energy Management (BOEM),  which is a federal body. State jurisdiction is limited to three miles from the coast.
In response BOEM opened three 'call areas', which brought some kickback from military, fishing and oil and gas interests, but further reports are being completed imminently and at some point the development will move to auction. Ragnhild Katteland, executive vice president, subsea & land systems business group atNexans, said that for California "They are really pushing" because  was the "only type of wind they can do'" and noted that several development consortia had already been formed.
This presents an important contrast to the situation ten years ago, when the UK was in step with its European neighbours in developing fixed offshore wind.
In considering investment in floating wind it is in competition with some major economies. In its consultation, and the 2021 allocation round, BEIS has to reconcile two different objectives: keeping price pressure on fixed offshore wind while supporting floating more expensive offshore wind.
If, as BEIS's Cheung suggests, it is seen as an UK option for the 2030s and beyond, the government could focus on driving down the price of fixed offshore wind and let others underwrite development of floating technology. If the UK wants to leverage its oil and gas experience into a leading position in floating wind, it must be ready to invest, and soon.
Can BEIS move fast enough – and at enough scale to plant its flag with the allocation round? That remains to be seen – but the industry cannot wait much longer.