Volker Beckers is announced as the next President of the British Society of Energy Economics and will take up office in January 2024.
We are delighted to announce that Volker Beckers was appointed as President Elect 2024 at the BIEE AGM on 20 September 2023. Currently serving as BIEE Vice President, Volker will become the 5th President of the British Institute of Economics on 1 January 2024 and will replace The Rt Hon Charles Hendry CBE when he completes his term of office after a decade during which he has provided invaluable leadership to the organisation. At the AGM, Charles was also appointed an Honorary Lifetime Fellow of the Institute and members expressed their immense gratitude for his services to the BIEE.
Volker said:
"I am deeply honoured to take on the role of President and at a such a critical time for the Energy industry.  I will support the core aims of the BIEE to provide a forum for members from all backgrounds to exchange ideas and information. I very much look forward to serving all members and furthering the objectives of BIEE to promote open dialogue and debate around key energy issues."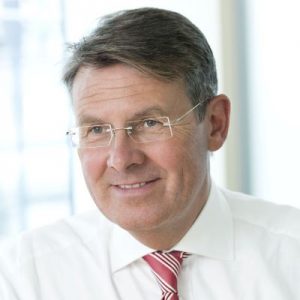 About Volker
Volker Beckers graduated from Cologne University in Economics/Business Administration. He has had a distinguished career as senior executive in an international environment and now works for a portfolio of companies of different sizes as non-Executive Director/Chair.
After an initial career in the IT industry working in different industry sectors, he spent more than 30 years' in senior positions internationally within the energy industry. His professional expertise spans across all sectors – private, public and academia.
Volker was Group CEO, RWE Npower plc until the end of 2012 and prior to this, its Group CFO from 2003 to 2009. He has worked with a variety of trade and industry bodies, including the CBI President's Committee, on the Board of the German-British Chamber of Industry & Commerce, and from 1999 as Deputy Chair of the Executive Commercial Management Committee at the German Association of Energy and Water Industries (BDEW) and was also member of the Executive Committee of UKBCSE (now Energy UK).
Volker sat on the Advisory Board of the EU Centre for Energy and Resource Security (EUCERS) at King's College and was Chair of the Advisory Board with Erasmus Centre for Future Energy Business (ECFEB), a specialist research center at Rotterdam School of Management. He was appointed in 2019 as Chairman of the Advisory Group of ewi – the Energy Institute of the University of Cologne. He is also a member of The Worshipful Company of Fuellers and a Fellow of the Energy Institute (FEI). Further, he works for and funds initiatives to support a number of charitable organisations; e.g. his time as Trustee and on the Board of Forum of the Future.
The President represents the BIEE to its members, stakeholders and the public. They also serve as a full member of BIEE Council.