We are delighted to announce that our seventh Future of Energy lecture will be given by
Greg Jackson, Founder & Chief Executive, Octopus Energy
on Thursday 10th March 2022.
Greg Jackson, Founder & Chief Executive, Octopus Energy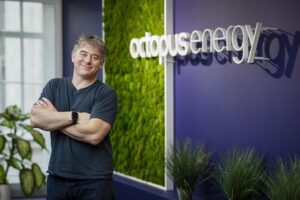 Greg is the founder and CEO of Octopus Energy Group, the green energy tech pioneer and certified B Corp based in the UK with over 2.4 million customers, further operations in 11 countries and 15 million accounts licensed worldwide to its green technology platform, Kraken. Launched in 2016, the company's mission is to bring cheaper, greener power to all and is currently growing at over 100,000 customers per month. In 2021, Octopus also entered the renewable energy generation market.
Greg's vision of using technology to disrupt the energy market has enabled Octopus Energy to create tariffs which unlock the power of the green grid – offering cheaper electricity when the sun is shining and wind is blowing. Its technology also achieves dramatically lower cost to serve than rivals, so cheaper, green power is delivered hand in hand with unbeaten customer satisfaction levels. With its smart tariffs proving customer appetite for flexibility, Octopus is pioneering a global system change to enable a cheaper, faster transition to renewables.
Following significant investment from Tokyo Gas and Origin Energy in December 2020, Octopus became a tech 'double unicorn' valued at well over $2 billion. With operations in the US, Germany, Australia, New Zealand and Japan, Octopus expects to expand into many more markets over the next few years.
Greg is an experienced digital entrepreneur, passionate about using technology to make positive change. He's founded a number of successful businesses, including e-commerce company C360, and is an angel investor in a wide range of tech start-ups. He also served as Director of several innovative businesses, including Zopa, the world's first peer-to-peer lender, which has now lent almost £2bn fairly and responsibly.
Heating goes electric: Why heat pumps will become mainstream soon
The pace of decarbonisation needs to accelerate in the face of climate change. The UK is aiming to reach Net Zero by 2050 but almost 90% of our domestic energy usage is still carbon-emitting. That's because natural gas is still the dominant source of home heating, although renewables are now covering almost 50% of UK electricity. The good news is – the UK is at the verge of an electric heating revolution, and heat pumps are the magic systems that are making this transformation possible. By investing heavily in ramping up their production and installation, Octopus Energy is helping to make clean and affordable heat pumps the dominant heating technology in the UK, turbocharging the country's decarbonisation efforts.
About the Lecture Series
As its strapline says, BIEE has for over 30 years provided a focal point for informed discussion and debate of key energy issues in the UK (and more broadly in Europe and globally). In 2014, to mark its 30th anniversary, BIEE  launched an annual lecture series – "The Future of Energy". The lecture is given by a leading figure in the energy world from industry, government or academia on a topic of their choice.
Past Speakers
2019 Sinead Lynch, UK Country Chair, Shell – 'The UK's Energy Future: a call for greater urgency'
2018 Steve Holliday, Former CEO, National Grid – 'We Need a Plan… or do we ?'
2017  The Rt Hon Greg Clark MP, Secretary of State for Business Energy and Industrial Strategy – 'UK Energy Policy'
2016 Iain Conn, CEO, Centrica – 'The Customer and the Changing Energy Landscape'
2015 Prof Dieter Helm, University of Oxford – 'Energy Policy after the Election'
2014 Ian Marchant, Former CEO, SSE – 'Keeping the Lights on'